A square in Italy
for Canadian Heroes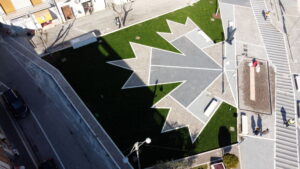 78 years after that tragic fight, in which Canadians who came from overseas in defense of freedom, human rights and democracy were the absolute protagonists, the pact between Italy and Canada was therefore renewed, with the opening of the square (in the pic above) to shape of a maple leaf and with a stele bearing the phrase "Canada and Italy: war has seen us side by side, peace sees us as friends".
The inauguration, due to the pandemic, took place in a reduced form but the ambassador of Canada in Italy, Alexandra Bugailiskis (in the pic below), still wanted to participate by sending a video message in which she thanked all the citizens of Ortona, underlining that "building this square during the pandemic it was a great undertaking, which once again demonstrates the courage and tenacity of Italian citizens. The battle of Ortona was terrible: now that the survivors are dead and there are no more witnesses, it is up to us alive to make sure that the new generations never forget the high cost of Peace". The square must therefore be "a sanctuary – Bugailiskis said – where we will honor the sacrifices of our Canadian Heroes: may it be the torch that enlightens and spurs generations to continue to remember those soldiers and keep alive their ideal of lasting peace" (here the complete video message: https://fb.watch/3PAETpb-uO/).
The renovation of the square – completed in one hundred days with a total cost of 200 thousand euros – was made possible in part thanks to the contribution of Veterans Affairs Canada, to remember both the 1,375 Canadians buried in the Moro River cemetery, and the almost 6,000 Canadians who they fought and died in Italy in the Second World War, as confirmed by the first citizen of Ortona.
"The project of the new square – underlined the mayor Leo Castiglione – had an important moment of sharing with the Canadian government, which through the Ministry of Veteran Affairs has contributed, also thanks to the collaboration of the local Lions Club, to the creation of the Fountain of Friendship which symbolically represents the ocean that unites the two stylized continents with the design of the maple leaf and the overflow. An initiative that for all the inhabitants of Ortona – concluded the mayor Castiglione – represents an epochal event ".